How we used Performance Max to improve lead generation costs by 51%
A lead generation success story using Google Ads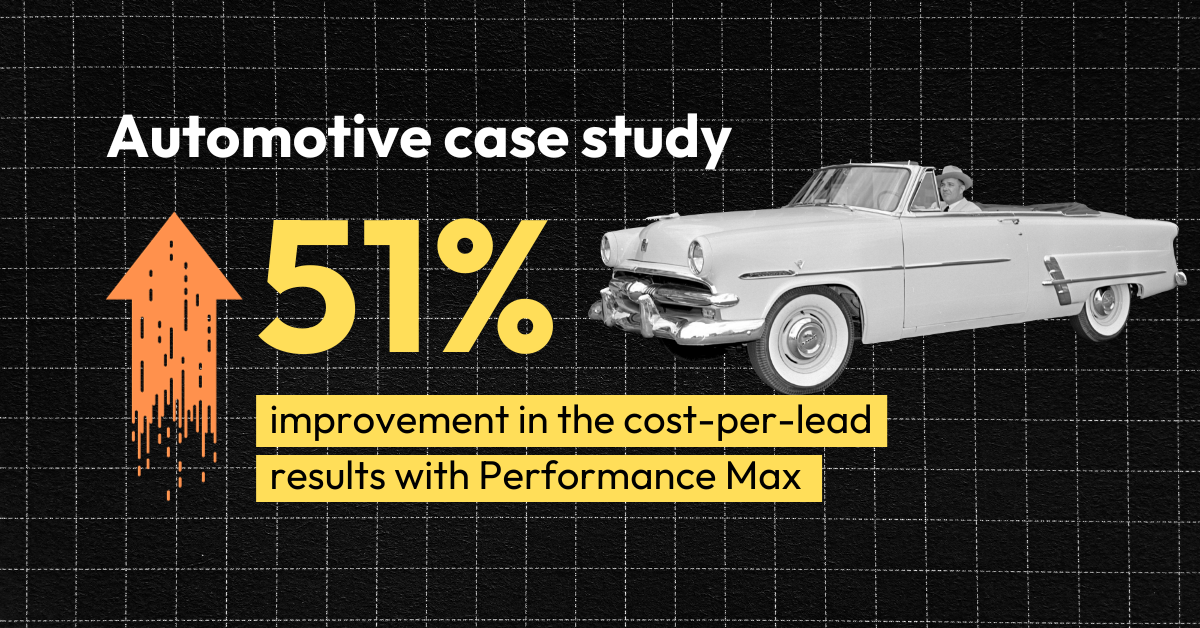 Our client is a major auto dealership in several geographic markets. Their strongest sales come from SUVs and crossovers.
July 15 to August 15, 2023
51% improvement in cost-per-lead results
30% increase in conversion rates for test drive requests
The client had an inventory of several hundred new vehicles and our task was to generate test drive requests so that the client could sell these vehicles
One of the client's biggest competitors launched a campaign with a highly competitive offer at the same time as our campaign
We created a Performance Max campaign to leverage Google Display, Search, YouTube, and Gmail.
We used 8 images and 1 YouTube video provided by the client
We used remarketing audiences with general automotive in-market audiences to increase the pool of potential car buyers.
We chose broad match keywords for the specific car model car model
We created an asset group specifically to bid on our competitor's keywords to capture some of their traffic
We launched the campaign in the middle of July and over the course of 1 month:
We increased the conversion rate for leads by

30%

compared to previous search campaigns.

With the Performance Max campaign, we managed to achieve a

51% decrease

in the cost per lead results
After seeing the results from the campaign, the client increased their ad budget.
When used correctly and when enough conversion data is available, Performance Max campaigns can be highly effective.
Undisclosed automotive dealership
Lead generation
Google Ads
Performance Max
Blog
This guide will help you set up Google Tag Manager to track successful form submissions in WP Forms that use AJAX. This step-by-step guide assumes that you are familiar with…